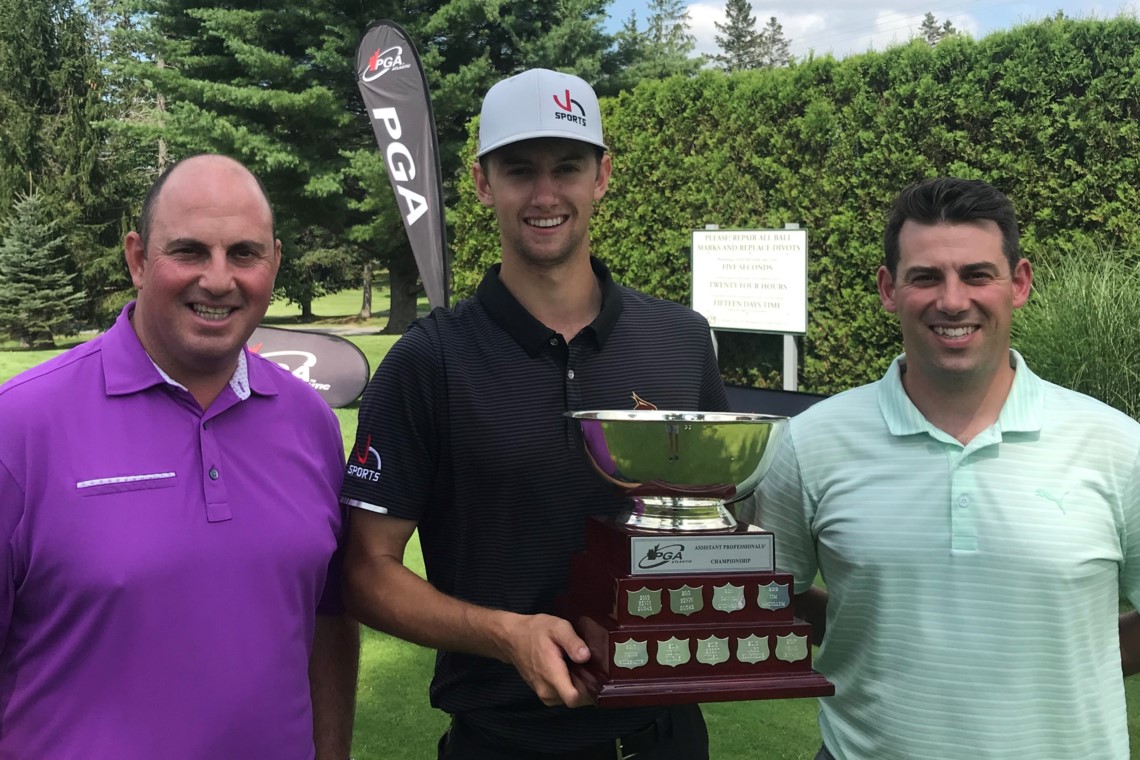 Rookie Wins Assistants Championship
Rookie Wins Assistants Championship
First year Apprentice Professional Calvin Ross, JH Sports, captured his the PGA Atlantic Assistants' Championship at the Ken-Wo Golf Club.
Defending PGA Atlantic Zone Champion Bradford Curren of Avon Valley held the first round lead with a 66. Ross followed with a 67. Jake Ward of Kingswood and Defending Assistants Champion Josh Landine of Ashburn rounded out the scores in the sixties with a 68 and 69 respectively.
Curren got off to a tough start in the final round with an opening triple bogey. Ross who went birdie birdie had now opened up a quick four shot lead over both Curren and Landine who began birdie par bogey. Ward stayed within two after three holes.
Ross then birdies both the fifth and sixth holes to go four under for the day and open up a five shot lead over Ward, Curren and Landine.
Through 27 holes, it was Ross at minus six, Landine at minus two, Curren and Ward at even.
Ross played the back nine with two birdies and two bogeys not allowing anyone to get close and finished with a second consecutive 67. Landine finished with two late birdies for a 67 and a 136 total.
Jordan Ells also from Ashburn finished with a 68 to capture 3rd at 71-68-139 one shot ahead of Curren at 66-76-142.
Chris Carlaw, The Links at Brunello, finished 5th with scores of 72-71-143 followed by Jeff Bishop of Dormie workshop with a 144 based on scores of 74-70. Bishop had it going in the final round as he was four under through eleven holes but slipped a bit coming in.
Ross's PGA playing career is off to a good start with two wins. He paired with friend and runner-up Josh Landine to win the Callaway PGA Atlantic Team Championship in late July.
TOP 10
| | | | | | |
| --- | --- | --- | --- | --- | --- |
| 1 | Calvin Ross | JH Sports | 67 | 67 | 134 |
| 2 | Josh Landine | Ashburn | 69 | 67 | 136 |
| 3 | Jordan Ells | Ashburn | 71 | 68 | 139 |
| 4 | Bradford Curren | Avon Valley | 66 | 76 | 142 |
| 5 | Chris Carlaw | Links at Brunello | 72 | 71 | 143 |
| 6 | Jeff Bishop | Dormie | 74 | 70 | 144 |
| 7 | Jake Ward | Kingswood | 68 | 77 | 145 |
| T8 | Joe MacIsaac | Links at Brunello | 71 | 75 | 146 |
| T8 | Conor Carnall | Cabot Links | 73 | 73 | 146 |
| T8 | Connor Shea | Andersons Creek | 73 | 73 | 146 |