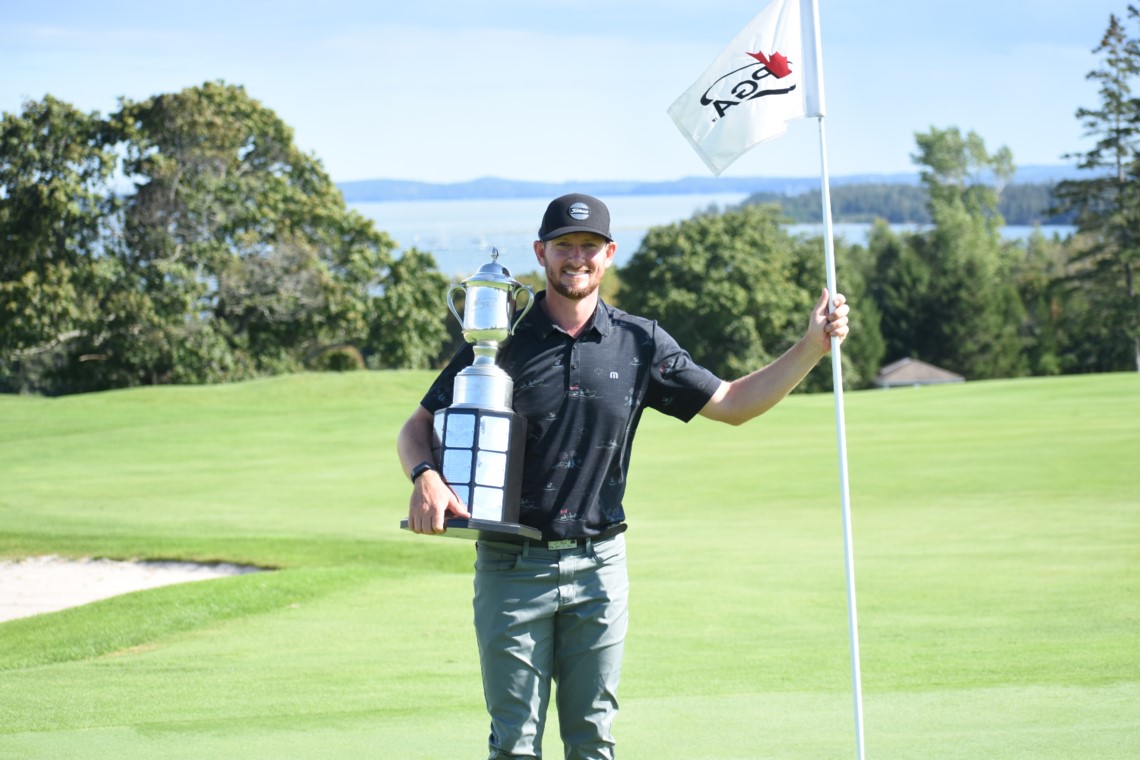 Kevin Stinson eagles 17 to claim PGA Assistants' Championship of Canada presented by Callaway Golf title
By: Brendan Stasiewich, PGA of Canada
(St. Andrews, NB) – A little bit (or a lot) of wind couldn't stop Kevin Stinson, the most consistent player on site this week at Algonquin Golf Club, from claiming the 2022 PGA Assistants' Championship of Canada presented by Callaway Golf.
For full results from the third round of the PGA Assistants' Championship of Canada presented by Callaway Golf, click here.
It was as close to a sure thing as you can get in golf that the champion would come from the final group consisting of Stinson, Wes Heffernan and Mitchell Fox, all within two strokes of each other and seven ahead of the rest of the pack heading into the final round.
After a back-and-fourth day with Heffernan matching the lead after four birdies in a row from 8-11, it was Stinson who made birdie on 13 and then hit it to a foot on 17 for eagle to take a two-stroke lead over Heffernan and Fox to cement his name on the Assistants' trophy.
"This feels amazing, I had a few second-place finishes last year, so to finally get one in the bag is pretty sweet," said Stinson. "Those guys are such good players, and the quality of golf was really high, so it was fun to be a part of it and coming down the stretch which determined everything, it was a lot of pressure and a lot of fun as well."
"17 was the turning point, I hit it close, and he hit a good one too. When he missed his putt and I kicked mine in it gave me a cushion going into the last, that was the difference," added Stinson.
Fox, who entered the day with a one-stroke lead, played well, shooting 70, but a few missed putts from within five feet opened the door for Stinson, who followed up his opening 66s with a 67 in tough conditions.
Not only did Stinson battle stiff competition this week, but he also battled jetlag after recently returning from South Africa with the Four Nations Cup Team. Through his travel, the Cheam Mountain Class "A" Pro has felt a massive amount of support from home.
"Cheam Mountain has been great. They let me go to South Africa last week and then head out here this week, so it is a lot of time off. The membership and people I teach have been so supportive of me going out and playing, so I will be making that up to them in the next few months," said Stinson. "My family, my dad watching this week and everyone cheering me back home, I really felt the support and it went a long way."
From here – Stinson and his father are heading on a quick getaway before returning home. A trip that was supposed to be a father-son holiday can now double as a celebratory vacation, as Stinson and his father will head straight to Cabot Cape Breton, where he will get to play the Cliffs for the first time.
Though Cabot will be a special treat, Stinson also had nothing but praise to give for Algonquin Golf Club.
"The East coast has been amazing to me. This course is underrated, I think it should be ranked higher. The back-nine, the views you get, I recommend if anybody is going on a golf trip to come out here," said Stinson.
The Inter-Zone Championship wrapped up yesterday, with the Alberta squad claiming the event for the second time in as many years – this time by 11 strokes.
The team consisting of: Wes Heffernan, Mitchell Fox, Jared Nicolls and Michael Harrison managed to beat Quebec by 11 strokes.