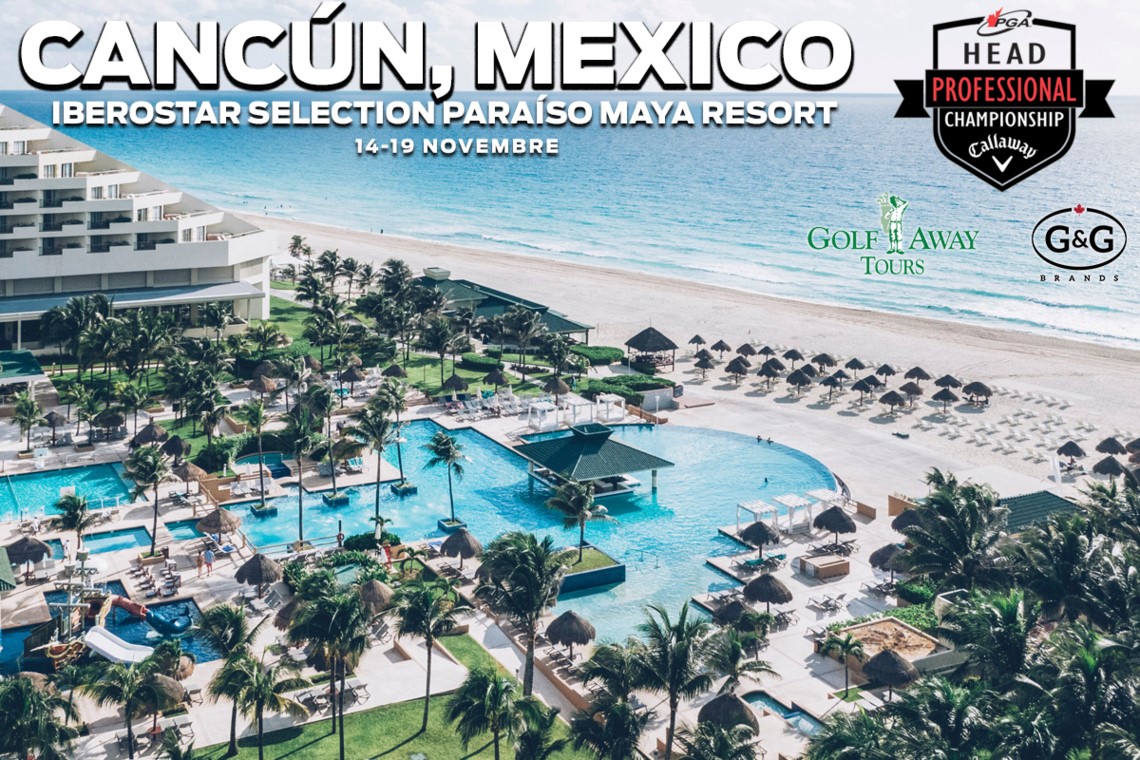 All-Inclusive Resort Experience Announced for PGA Head Professional Championship of Canada presented by Callaway Golf in Cancun, Mexico
National Championship to be held at the Iberostar Playa Paraíso Golf Club at Iberostar Selection Paraíso Maya
(Acton, ON) - The PGA of Canada is excited to announce that the 2023 Head Professional Championship of Canada presented by Callaway Golf and supported by Golf Away Tours and G&G Brands will be held at Iberostar Playa Paraíso Golf Club, located at Iberostar Selection Paraíso Maya, an all-inclusive resort outside of Cancun, Mexico.
Eligible members from across the country will soak in the sun from November 14-19, with a practice round preceding the 54-hole no-cut event on November 15.
"Our team and our partners have been discussing the idea of holding this championship at a resort-style venue for a number of years to elevate the tournament experience for our members and to see it become a reality now is something we are all excited about," said PGA of Canada President Gord Percy. "Not only will participants compete on a championship-calibre golf course but everyone will be staying together on an amazing property as well."
Full week itinerary can be found here.
Historically, the PGA Head Professional Championship of Canada has been held at southern locations giving professionals the chance to escape the winter, including last year when Craig Gibson claimed the event in a playoff at Verrado Golf Club in Buckeye, AZ.
We are taking that southern-based concept and elevating it significantly in 2023 thanks in large part to our on-going partnership with Golf Away Tours, who helped secure the partnership with the resort.
This can't miss experience will include receptions following the practice round and the final round, while all food and drink throughout the week will be complimentary throughout the resort. Transportation from Cancun airport to Iberostar Paraíso Maya and back will be provided by the resort as well.
"We are thrilled to once again be part of this PGA National Championship and feel that this year's event will provide such a great atmosphere for everyone," said Bruce Carroll, General Manager of Callaway Golf Canada. "We are proud to continue supporting PGA Professionals from coast to coast and love this unique opportunity to interact and have some fun with some of the best in the country."
Tipping out at 6,800 yards, the par-72 Iberostar Playa Paraíso Golf Club has hosted prestigious events such as the 2016 World Amateur Team Championship, Big Break Mexico, Iberostar Riviera Maya Open and the PGA TOUR Latinoamerica's Bupa Match Play event from 2018-2019. More information about the golf course can be found here.
Iberostar Selection Paraíso Maya is one of the top resorts in Maya Riviera. The resort gives a Caribbean experience while also placing you at the heart of the Mayan civilization, one of the most fascinating cultures of pre-Columbian America. There are both family and adult-only hotel options available. For more information about the resort, click here. There are multiple accommodation options available for members at various price points, as well as non-golfer rates should members choose to bring guests/family. For all room rates and options, click here.
Full week itinerary as well as more information can be found here.
To register for the PGA of Canada Head Professional Championship of Canada presented by Callaway Golf, click here.
Once registered, players will be required to book their stay through Golf Away Tours. The registration and booking deadline is much earlier than prior years. Please note that the booking deadline is August 15th and rooms will be reserved on a first come first served basis. Please contact Golf Away Tours for resort reservation.
To follow all of our National Championships online, visit pgaofcanada.com, twitter.com/pgaofcanada, instagram.com/thepgaofcanada and facebook.com/pgaofcanada.
Eligible membership categories for this championship include: Owner/Operator, CEO, COO, General Manager, Manager of Golf Operations, Pro-Manager, Director of Golf, Director of Golf Operations, Head Professional, Head Teaching Professional, Director of Instruction, Head Golf Coach.