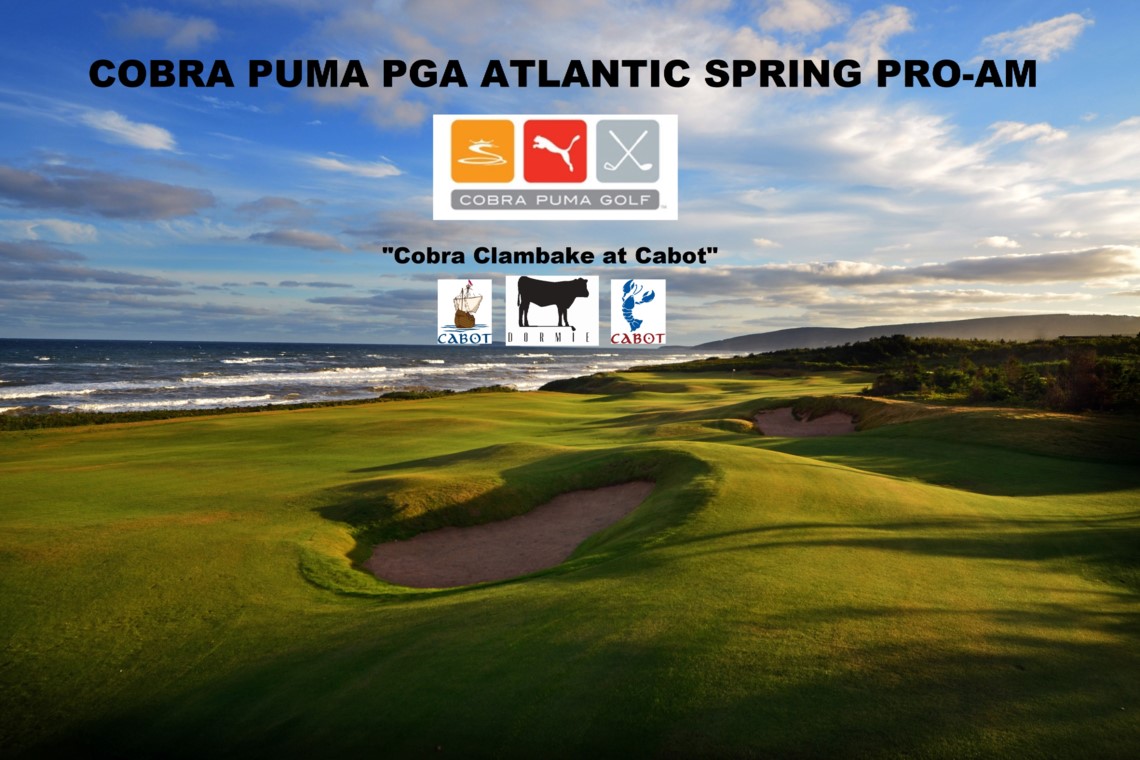 Cobra Puma PGA Atlantic Spring Pro-Am Cancelled
With the current health challenges that we are facing in our world and specifically the prognosis for resumed normal play and camaraderie within our wonderful sport, it is very disappointing although prudent to announce that the 2020 Cobra Puma Spring Pro-Am scheduled for Cabot Links on June 3rd and 4th is cancelled.
We are pleased to announce that the event will be back on stream for 2021 when the 8th Annual Cobra Puma Spring Pro-Am will be held on June 2nd and 3rd.
It is responsible that we take this direction early enough out of respect to our PGA Partner Cobra Puma, our gracious host Cabot Links and all of the PGA professionals and their teams who were registered to play in the event.
Dwayne Boecker, Head of Golf, Cobra Puma … "Our relationship with the PGA Professionals in Atlantic Canada is special. The Spring Pro-Am is a highlight and the opportunity to interact with the professionals and their amateur team members speaks directly to our brands. The social atmosphere at an unbelievable location allowing us to enjoy what this great game is all about is extremely important for our company."
Conversation has been ongoing with Dwayne as well as Ted and Mary at Cabot Links. We have all remained hopeful that 2020 could go as planned however this is not possible especially with the unknown that would likely impact our usual top shelf event.
"It is obviously with reluctance that we have made the decision to cancel the Cobra Puma Spring Pro-Am for 2020 but we want to ensure that this continues to be the event that we have all come to expect. The event is normally the ultimate way to open our year and with the strong likelihood of having to limit the social interaction we do not want to diminish this event in anyway. We are looking forward to 2021 when the Cobra Puma Spring Puma launches our season with the usual fanfare." states PGA Atlantic President Jonathan Garron
Dwayne adds … "In lieu of the Spring Pro-Am being cancelled, Cobra Puma is looking at alternate ways to support the PGA Atlantic in 2020 to demonstrate our mutual partnership."
"The commitment that Cobra Puma has demonstrated to the PGA professionals in our zone is truly appreciated. We are pleased to partner with Cobra Puma and we thank Dwayne, Troy and the team very much." … continues Jonathan.
We would be remiss if we did not thank our PGA Partner Dormie Workshop. Fellow PGA Professionals Todd and Jeff Bishop and their team have been instrumental in elevating the enthusiasm of our amateur participants. The special first tee gifts have added a unique flair to the event.
If things change in our world and the opportunity for an encouraging date later in the year presents itself, we will explore the possibility of rescheduling.
From an administrative perspective, all confirmed teams for 2020 will be guaranteed entry into the 2021 event if confirmation is received by the stipulated date to be announced later.
For those that have rooms reserved, please contact Cabot directly to cancel or to apply your deposit to next year … 1-855-652-2268 or Mary Earle @ mearle@cabotlinks.com
Thank you to Cobra Puma, Dormie Golf and Cabot Links.