2022 Tournament of Champions
The PING PGA Atlantic Junior Tournament of Champions took place at host golf club Amherst on August 30th. It was a great turnout with 71 Junior Golfers from across the Atlantic provinces.
A special thank you to Michael Archibald, the staff and members at the Amherst Golf Club for being such gracious hosts. As well as our great sponsor of SYSCO for the generous donation of food and beverages for the Juniors to enjoy after their round.
This event wouldn't be what it is without the fantastic support from our partner PING Canada. Thank you to Dave Wilson (GM of PING Canada) and Atlantic Representative for PING Canada Kevin Doucette, who was on hand for the day, interacting and presenting the great PING products to the champions. Many of the Champions received their choice of PING putters or hoofer bags.
Thank you to the parents and PGA professionals for supporting all the young players. Finally, thank you to the juniors who demonstrated what this great game of golf is all about fun, enjoyment and sportsmanship! You could not ask for a better group of young people to participate in this event! Every participant is a true winner!
The overall Girls Champions was Oliva Seaman from KenWo with a score of 79, and the Boys Champion was Elliot Mullen from Truro with a score of 71! It was a fantastic day and we are already looking forward to next year.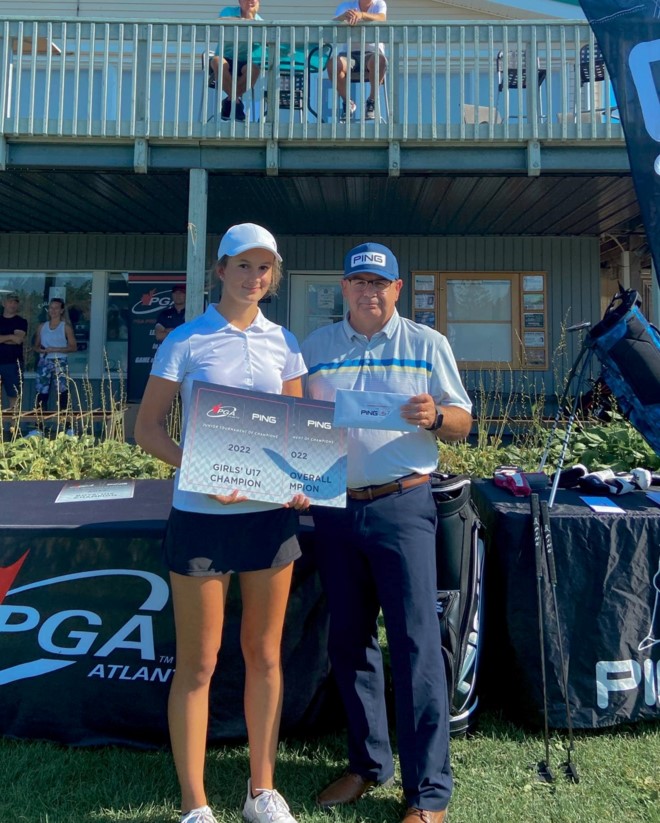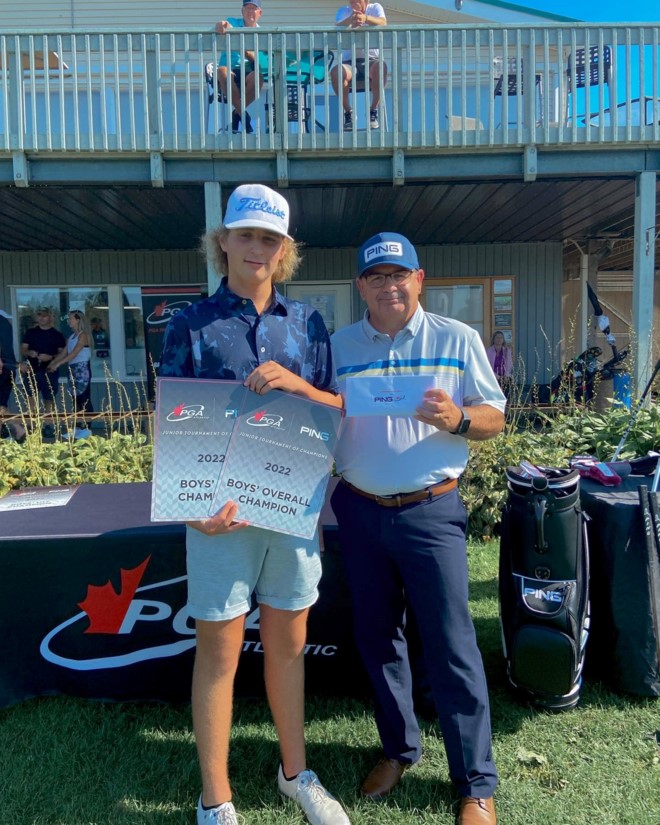 Winners:
| | | |
| --- | --- | --- |
| U17G | | |
| 1st Gross and Overall Girls Champion | Olivia Seaman | KenWo |
| 1st Net | Jaiden Eisenhauer | Avon Valley |
| | | |
| U15B | | |
| 1st Gross and Overall Boys Champion | Elliott Mullen | Truro |
| 2nd Gross | Brett Shaw | Fox Meadow |
| 1st Net | Jacob Brideau | Gowan Brae |
| 2nd Net | Jack Butler | Eaglequest |
| | | |
| U13B | | |
| 1st Gross | Carter Lavigne | Moncton |
| 2nd Gross | Luke MacDougall | Avon Valley |
| 1st Net | Michael Brosen | Gage Golf |
| 2nd Net | David Johnson | Hampton |
| | | |
| U13G | | |
| 1st Gross | Lara Fry | Avon Valley |
| 1st Net | Ada Barnett | KenWo |
| | | |
| U15G | | |
| 1st Gross | Isabelle MacKinnon | Crowbush |
| 1st Net | Kate Pemberton | Avon Valley |
| | | |
| U17B | | |
| 1st Gross | Ben Nicholson | Fredericton |
| 2nd Gross | Jacob Rockwood | Hampton |
| 3rd Gross | Aaron Partington | Fredericton |
| 1st Net | Matthew Brosens | Gage Golf |
| 2nd Net | Zach Gaudet | Truro |
| | | |
| | | |
| U19B | | |
| 1st Gross | Nicolas Colton | Gowan Brae |
| 2nd Gross | Jack Bailey | Westfield |
| 1st Net | Tre Duplessis | Hampton |
| 2nd Net | Ty Beed | Amherst |
| | | |
| U19G | | |
| 1st Gross | Emma Rushton | KenWo |
| 1st Net | Taylor Wilson | Oakfield |
All Results:
| | | |
| --- | --- | --- |
| JUNIOR | CLUB | GROSS |
| | | |
| U13B | | |
| Carter Lavigne | Moncton | 78 |
| Luke MacDougall | Avon Valley | 78 |
| Nathan MacDonald | Oakfield | 79 |
| Issac Brooks | Moncton Golf | 82 |
| Paxton Levy | KenWo | 88 |
| Pierce MacKenzie | Anitgonish | 88 |
| Felix MacDonald | Brightwood | 89 |
| Alexis Noel | Gowan Brae | 90 |
| Colin MacCormac | Fox Meadow | 91 |
| Michael Brosen | Gage Golf | 92 |
| David Johnson | Hampton | 93 |
| Emmett Hubbard | Hampton | 109 |
| Erik Peterson | Country Meadows | 112 |
| | | |
| U13G | | |
| Lara Fry | Avon Valley | 119 |
| Ada Barnett | KenWo | 134 |
| | | |
| U15B | | |
| Elliott Mullen | Truro | 71 |
| Brett Shaw | Fox Meadow | 73 |
| Ben Brown | Antigonish | 78 |
| Jacob Brideau | Gowan Brae | 78 |
| Blake Wilson | Oakfield | 80 |
| Nicolas Penny | Brookfield | 80 |
| Braden Ahern | Moncton Golf | 82 |
| Jack Butler | Eaglequest | 83 |
| AJ Campbell | KenWo | 85 |
| Liam Fairley | Gage Golf | 85 |
| Lucas Somers | Country Meadows | 87 |
| Kooper MacKay | KenWo | 88 |
| Brayden Brown | Amherst | 98 |
| | | |
| U15G | | |
| Isabelle MacKinnon | Crowbush | 89 |
| Kate Pemberton | Avon Valley | 91 |
| Neve Miller | Fox Creek | 94 |
| Claira Frizzell | Oakfield | 94 |
| | | |
| U17B | | |
| Ben Nicholson | Fredericton | 76 |
| Jacob Rockwood | Hampton | 77 |
| Aaron Partington | Fredericton | 78 |
| Zach Gaudet | Truro | 79 |
| Jackson Hachey | Westfield | 79 |
| Cade Butler | Glasgow Hills | 82 |
| Morgan Costain | Westfield | 83 |
| Matthew Brooks | Oakfield | 83 |
| Matthew Brosens | Gage Golf | 83 |
| Connor Stewart | Brightwood | 84 |
| Colby Bent | Truro | 85 |
| Iain Balcolm | Anitgonish | 87 |
| James O'Dell | Fox Meadow | 88 |
| Cameron Frias | Riverside | 90 |
| Kyler Edwards | Anmherst | 90 |
| Carson Logie | KenWo | 91 |
| Blake Daine | Kingswood | 92 |
| Jaxon Pearson | Chester | 93 |
| Keegan Eisenhauser | Avon Valley | 96 |
| MacKenzie Reed | Hampton | 97 |
| | | |
| U17G | | |
| Olivia Seaman | KenWo | 79 |
| Jaiden Eisenhauer | Avon Valley | 91 |
| Ava Mitton | Country Meadows | 106 |
| Anna MacNutt | Truro | 115 |
| | | |
| U19B | | |
| Nicolas Colton | Gowan Brae | 72 |
| Jack Bailey | Westfield | 76 |
| Tre Duplessis | Hampton | 78 |
| Noah Riggs | Gage Golf | 79 |
| Ty Beed | Amherst | 79 |
| Ethan McFadden | Moncton Golf | 80 |
| Noah Comeau | Eaglequest | 81 |
| John Murrary-Weir | Country Meadows | 81 |
| Alex Petrie | Country Meadows | 82 |
| Michael Kiley | Fox Meadow | 83 |
| Maguire Brennan | Mill River | 85 |
| Nate Campbell | Amherst | 93 |
| | | |
| U19G | | |
| Emma Rushton | KenWo | 85 |
| Taylor Wilson | Oakfield | 93 |
| Anna Brewster | Gowan Brae | DNF |