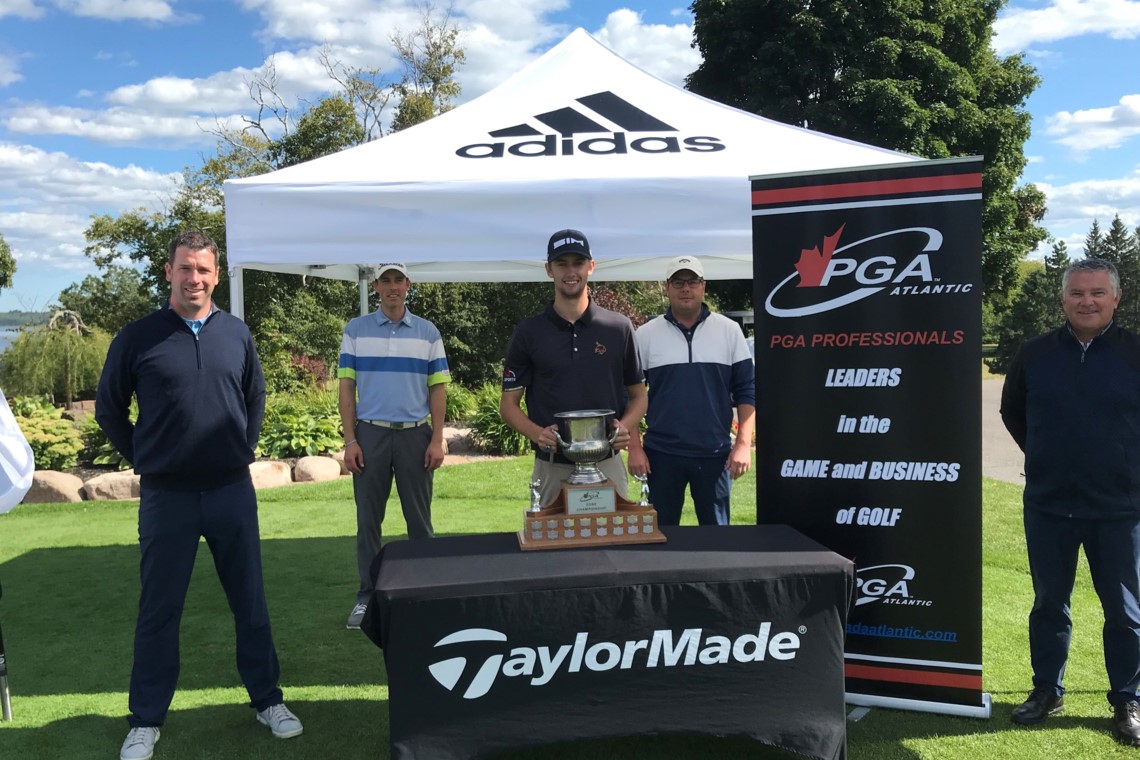 Calvin Ross Dominating PGA Atlantic Champion
Calvin Ross … Dominating Zone Champion
Gowan Brae Golf & Country Club hosted the 2020 TaylorMade and adidas Golf PGA Atlantic Zone Championship for the first time in 36 years. What a great golf course and facility.
Congratulations to Champion Calvin Ross of JH Sports. This follows up Calvin's victory at the PGA Atlantic Assistants Championship and the PGA Atlantic Team Championship.
Thank you for the support of our partners … TaylorMade and adidas Golf!
A special thank you to PGA Professionals Adam Chamberlain, Chad Townsend, Andrew Wood and their team at Gowan Brae for hosting the Championship. Also, thank you to the members at Gowan Brae for allowing the PGA Professionals in Atlantic Canada to enjoy their wonderful course and experience their hospitality.
Round one saw a lot of excellent golf with 5 players at one under par 71 including host and past Zone and National Champion Adam Chamberlain, past Zone Champion Neal Ryan of The Links at Brunello, Jonathan Garron of Abercrombie, Josh Landine of Ashburn and Connor Shea of Andersons Creek.
Another five players were at even par 72 including last year's champion Bradford Curren of Oakfield.
Last year's runner-up Thomas Keddy of Maplewood highlighted a group of three at 73.
This would have shaped up for a fantastic final round with 18 players within three shots however Calvin Ross put on a show. Ross fired a blazing course record 8 under par 64 that included 8 birdies and no bogeys for a seven shot lead.
Current Order of Merit leader Nick Peters who played with Ross and shot a very respectable 74 commented that Calvin was playing a different game.
Ross's opening round seemed to leave very little doubt in the final outcome. That being said, Neal Ryan made some noise in the final round opening with a 5 under par 31 on the front nine had closed the gap to 3 shots as Ross opened with a very solid one under par 35. Ross increased the lead to 4 with a birdie on #10 however Ryan answered with a birdie on #11 so the lead was still 3. Unfortunately, Ryan made a double bogey on #12 and Ross went on a birdie streak of three holes to close the deal finishing with a back nine 32 and a 5 under par 67.
Ryan played the last 6 holes at even par and his 68 was good enough to tie Thomas Keddy for second at a five under par total. Keddy finished very strong making an eagle and 3 birdies on the first seven holes of the back nine to finish with a 32. This coupled with a two under par 34 on the front nine gave him the best round of the day at 66.
Host professional Chamberlain finished with a 70 good enough for 4th at 3 under par.
Rounding out the top ten were Jamie Moran of Belvedere who tied for 5th with Connor Shea. In 7th was Landine with a 143 and 8th went to peters at 145. Tied for 9th were Garron, Todd Bishop of Dormie Workshop and Steve Leblanc of Westfield.
Calvin Ross's scores of 64-67-131 gave him an eight shot victory … very impressive. Great golf Calvin … congratulations!